Have you ever wondered if you can invest your IRA funds into cryptocurrency or Digital assets? I wondered about the same thing. I did not want the cryptocurrency train to pass me by. This is my story on what I found during my research and my experience in my chosen path. At first, I started to invest after tax funds into the market, but was looking for a way to invest a bigger share of my assets into cryptocurrency to experience some of the incredible returns that can be found in the market. Along with researching the different cryptocurrencies and digital assets to invest in, I did more research to find out how I can invest some of my long time assets. There a few options available:
Investing into cryptocurrency mutual funds
There aren't that many Cryptocurrency mutual finds to invest in. The only one I was able to find was of interest was the Grayscale Bitcoin Trust (GBTC)Grayscale Bitcoin Trust (GBTC), which allow for Shares that are based on the Bitcoin market price, less fees and expenses. According to their site, its a traditional investment vehicle  providing a familiar structure for financial and tax advisors. Click here to see the latest price and market performance
Investing in specific cryptocurrency IRA's:
There are a few companies that allow investment into IRA's with Cryptocurrency. BitIRA BitIRA is one of those companies. They will take care of fund and rollover initiation, complete paperwork and place your cryptocurrency holdings in cold storage, including providing insurance on both the storage and transfer. Currently, they offer 8 types of cryptocurrency tokens to choose from.
Invest using a self-directed IRA, with the checkbook option.
A Self-directed Checkbook IRA allows you to invest in the cryptocurrencies you choose. But with this option comes the additional burden of paperwork and storage of your assets. In addition to cryptocurrencies and digital assets, assets such as real estate, precious metals and others can be stored in this same investment vehicle. Click here for additional info on Self Directed IRA's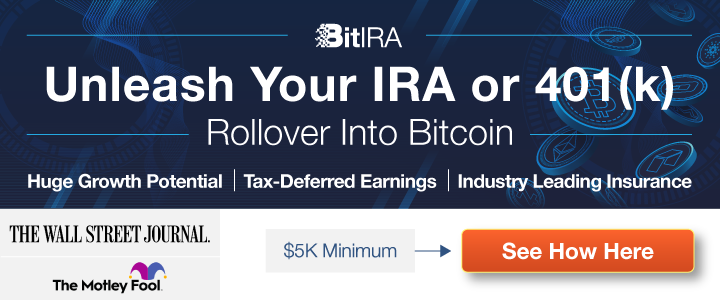 To see more, check out the resource page for books on how to set up a self directed IRA.
All 3  possibilities are viable options, each come with their different attributes, which may or may not be ideal for your individual situation.  The possible drawbacks I saw were:
Only limited options of cryptocurrency to choose from
High minimum deposit requirements
 Your coins would have to be under someone else's custody.
After looking at the various options, I decided that I would try the Self Directed Checkbook IRA LLC route, which is the combination of a self directed IRA with checkbook privileges to purchase the digital assets I was interested in to allow for tax deferred growth for retirement investing.
The Road To Self-Direction
There are 2 parts to creating a checkbook IRA, first finding a custodian for the IRA , and then having the LLC setup to handle the facilitation of purchasing and holding the assets. This process looked like it could be really confusing, but I used a company that handles everything, called Broad Financial. For a fee, they will open an IRA at a trustee (Madison Trust Company) and then create an LLC so that you  can start investing your assets.
The overall process is:
Complete initial paperwork and return to Broad Financial

Includes: deciding names for your LLC. You will be asked to include multiple options, just in case certain names are taken or not accepted by the state governing agency

Initial paperwork to initiate your transfer from existing IRA or initial funding request
Broad Financial will open an LLC in your companies name. A binder will be sent with your LLC company info and start to initiate the funding request
Once you receive the binder, complete the operating agreement and investment form
The IRA Trustee (Madison Trust Company) will mail a capitalization check with your transfer to you
Use your capitalization check to open a checking account in the name of the LLC
After your checking account is capitalized , you can start opening account at cryptocurrency exchanges and purchasing cryptocurrency and digital assets for your IRA
Initial Timeframe:
The initial process took about 6-8 weeks. I filled out the initial forms, which includes paperwork for rolling your traditional IRA funds into the checkbook IRA which included choosing 3 options for your LLC name. It didn't matter much to me, but if you have your heart set on a particular name you may want to check with your state registry to see if the name is taken, along with making it your first choice on the form you send in with your welcome packet.
Filling out the paperwork is long, and in some cases seems to be repetitive but worth it in knowing the future benefits it offers.
Once the information is sent, Broad Financial will take care of the initial setup and then send you an introduction binder. They also offer rush service for an additional fee if you desire.
Once the welcome/intro packet is received, the work continues. The first thing you have to do is to open a bank account in the LLC name to facilitate asset purchase. A check with your rollover funds will be included in the welcome packet. You can open the bank account and make the initial deposit at the same time.
A tip on the above step, bring your welcome packet with you as the bank will need to see documents from the LLC. This will save you multiple trips to the bank – ask how I know 🙂
Signing up for exchanges
Once your checking account is setup. It's time to start signing up at Cryptocurrency Exchanges to make your purchases. I decided to sign up to multiple exchanges since the choices in cryptocurrency coins varied within each exchange. The main reason I wanted to open accounts at multiple exchanges was to make sure I had multiple exit ramps available when needed, and to make sure the deposit and withdraw limits are as high as possible. Be prepared to do the extra verification and paperwork now, instead of scrambling later during future crypto bull runs. One point to remember is that cryptocurrency exchanges will require copies of the LLC operating agreement, so keep that welcome binder nearby.I decided to open accounts at:
Coinbase
Coinbase is one of the exchanges that allows you to have a personal and business account. Here are the steps to open a Coinbase Pro account:
Bittrex
Bittrex is an exchange that only allows for one type of account. Like many of the others, your account starts off as a personal account, and then gets converted to a corporate account. The corporate account type is what is needed to trade as an LLC or other company. Here are the advantages of having a corporate account on Bittrex:
No Withdrawal Limits – corporate accounts do not have a 24-hour withdrawal limit

Fast Deposits– lower confirmations for qualifying coins

Priority Support– corporate support requests are routed to the corporate support queue

Fiat (USD) Trading  –Corporate customers are first to qualify for new programs such as USD trading, which just went live in June for corporate customers. Corporate customers operating outside the United States or in one of the states listed above can participate.

Audit Support – we will support administrator, accountant, and other third party requests

Escalation contact – secondary direct contact method for non-standard requests
The steps to open an account Bittrex seemed to be more involved and the process required more paperwork. The approval time was similar to the rest of the exchanges.
Kraken
Kraken also has different levels of verification, with up to 500K daily limits and 15M Monthly limits with both unlimited deposit limits. Kraken's process to convert to a pro account was a little more involved and a bit more manual than the rest, as a support ticket had to be opened with the team before the process continued.
This link describes the process to convert to a pro account:
https://support.kraken.com/hc/en-us/articles/115005036268-Pro-accounts-for-Individuals
Uphold
Registering on uphold was the most involved, but after using them they have become one of my favorites. The process for UpholdUphold is to register as a regular and verified member. Once the account is verified, you will have to click the Business Application. Below are a list of requirements needed for a business application.
Become a verified member
Fill out the Uphold Business Application. You will need the following information to complete the form

Proof of address (such as a utility bill)
Uphold Username
Company Name
Purpose of Account
Address (Must be a Physical Address, P.O. Boxes will not be accepted)
Tax ID (EIN/SSN/TIN)
List and IDs of all Beneficial Owners associated with the business account
Certificate of good standing / filed business document (e.g. articles of in corporation) from state of gov't entity
Expected monthly activity/transaction volume (in USD)?
Once the account Is approved, Uphold followed up 3 months afterward to ask for copies of bank statements for additional verification.
An account must first be opened as an Individual user. Once approved, an Institutional document will need to be completed which will ask for additional information Including specific LLC orginization details. Once completed, the account will be created.
Gemini
Gemini has the same basic startup as the other exchanges, In addition Gemini will ask for additional documents, Including list of company directors and Capital Control structure. It sounds a bit overwhelming on the surface, but Examples of the documents are provided on their web site. Once completed, the account will be opened and ready to buy digital assets.